If you could summarise the thinking behind Our Scottish Future's recent rally, it would pretty much equate to "go big or go home".
Booking out a 750 seat capacity venue in the middle of Edinburgh for a Thursday evening was not without risk. Fail to fill it and there would be no shortage of glee (and memes) from some quarters. And anyway, what business did we have booking such a large venue? We're not a political party with thousands of members; we're a think tank – a young, scrappy one at that, boasting a total of three staffers.
But we set out to be bold, to go big and do something different.
Inviting a stellar cast of speakers from across the nations and regions of the UK, we wanted to show that Scotland's dissatisfaction with how the UK operates is shared with people from all corners of it and that a real, progressive, deliverable solution is possible through reform and partnership. In short – we all have problems with how power in this country operates through Whitehall tinted glasses. Scotland is not alone. Let's fix it.
A key challenge is that our message lays between two entrenched positions. On one side those who would abolish Holyrood and on the other those who would abolish the UK. In these times if you want to guarantee engagement, whether that's clicks, likes or turn out at an event, the safest route is to land some performative blows on your opponents and tell your tribe what they want to hear. We didn't want to do this. We sought and invited people from different political positions.
The event was undoubtedly on one side of the political fence, but bits of political peacocking aside, I believe soft independence voters would be in agreement with our central message. If not the prescription, then at least the diagnosis. And that's a start.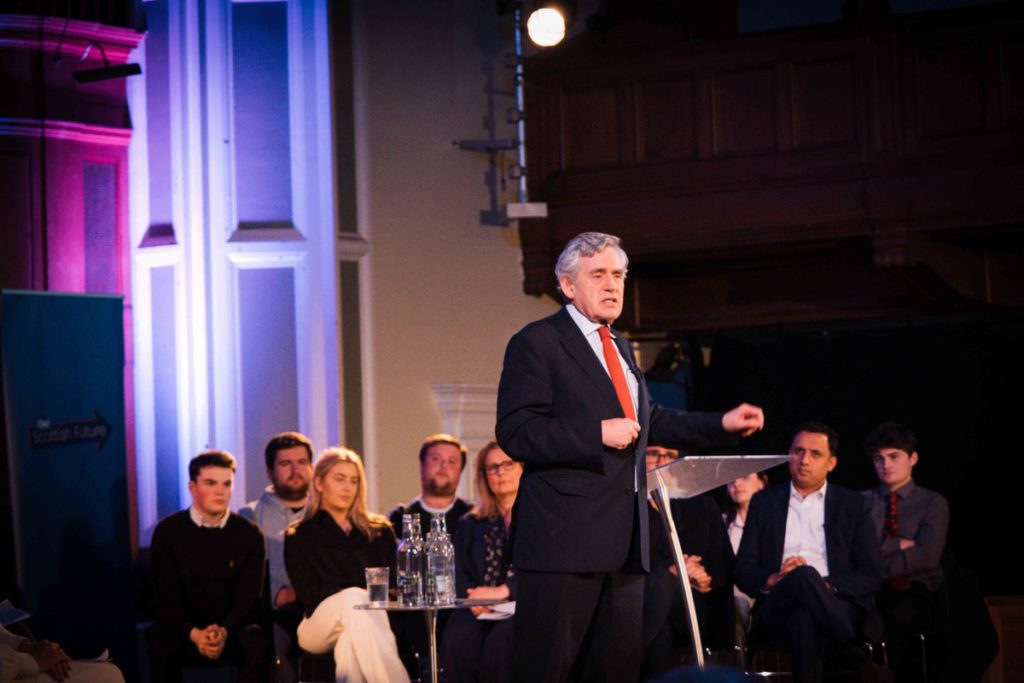 It's also important to acknowledge that there are people who will say that rather than holding an event on the constitution, we should have held an event on the cost of living. Or on the NHS. Or on the economy.
First, and most obviously, we are primarily a constitutional reform focused think tank; committed to helping build a stronger Scotland in a better Britain.
Second, we think that in order for every community within the UK to reach its potential, change has to happen. Therefore, economic growth and reform of the centre are inextricably linked. Not just the big headline changes, but crucially also pushing power out to communities. As a proud Glaswegian, I am convinced Glasgow should have much more control over our own destiny rather than be governed from Edinburgh. In public services too, the empowerment of local communities would lead to different choices being made and ultimately more choice for the public.
Third, we believe our message is the right one. Our research shows that Scots back deeper cooperation between our governments on everything from solving the drugs crisis, to improvements in the NHS, to job creation. More than 60 percent of Scots want more cooperation. I also often see people say that trying to fob Scots off with "more" devolution won't work. We agree. We are championing the radical rewiring of Britain and cementing Scotland's voice and influence within that rewired Britain.
Finally, the SNPs current troubles does not mean independence is dead. My colleague Eddie Barnes wrote recently:
"…for all that Scottish independence is temporarily off the agenda thanks the SNP's internal woes, is anyone seriously suggesting that the cause of independence and the things that drive it – disillusion and a sense of moral dislocation with the UK – are dissipating into the air? Not me. So we ignore calls for reform at our peril."
Now is the time to take the political initiative and show that we are serious about fixing Britain. Failure to do so, and waiting till independence poses an acute threat again, would be a strategic mistake. Our proposed solutions would be viewed as coming out of fear rather than conviction.
I am happy to say that we did go big. Despite the best efforts of some online armchair activists to sabotage the event by booking hundreds of tickets -isn't it interesting how those most convinced of their progressive credentials can be so illiberal and intolerant?- the room was filled with people united in their desire for change, creating a crackling atmosphere. We were treated to inspirational and heartfelt speeches from people who made a lot of effort to be there because they care about Scotland and share our frustrations with the status quo.
Laying out the blueprints for a new Britain, fit for the 21st century, based on fairness and respect, it felt good to be on the side of change.