A prize awaits parties which can lift Scotland out of its pessimism towards politics, the polling by Our Scottish Future indicates, as Holyrood prepares to return to business this week. 
We asked Scots to sum up how they felt about the country as things stand: was it better than five years ago? How did it measure up against the rest of the UK? Did they feel optimistic or pessimistic about their own future and our governments?
Perhaps not surprisingly after yet more political upheaval in Edinburgh and Westminster, and after a year which has seen households battered by the cost of living, we don't have the most optimistic outlook when it comes to Scottish and UK politics.
As the Scottish Parliament returns today, and a general election looks into view, we believe the polling shows Scots are looking for parties to set out a fresh, positive message on their priorities to take the country forward together.
The polling we conducted shows, firstly, that we feel we've fought ourselves into the mire over the question of independence. 
According to our poll, more than half of Scots agree that, after the last decade of constitutional debate, Scotland now feels in a rut. 
Only 10% disagreed.
What's more, the consensus went across our constitutional divide: 53% of Yes voters and 57% of No voters agreed we now felt stuck.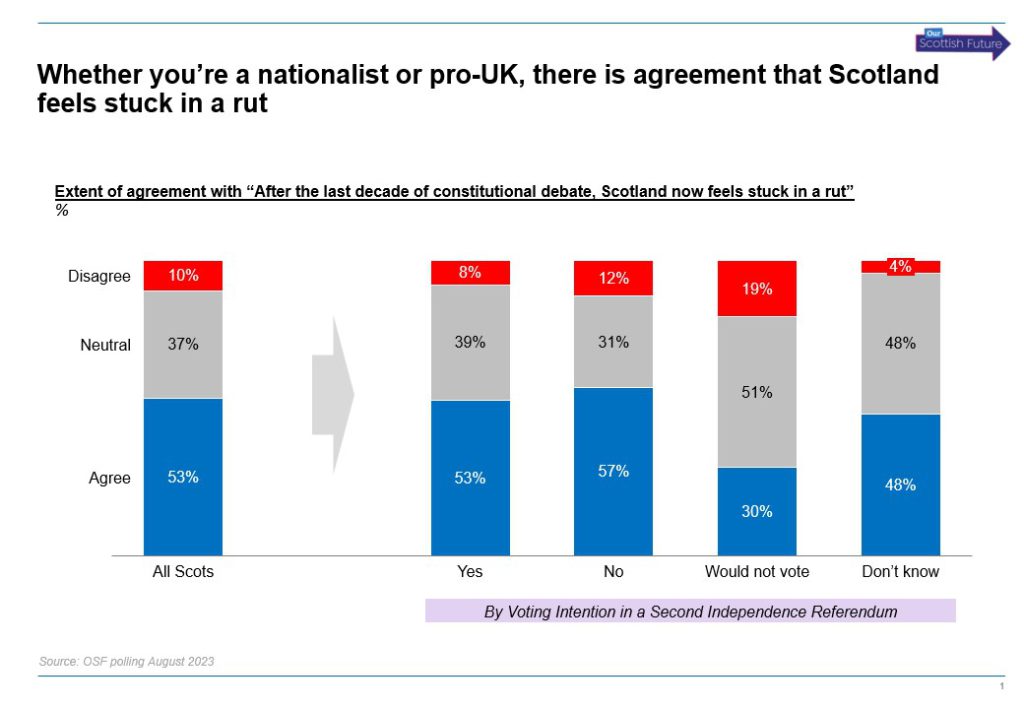 And when we asked Scots about how they felt about the country as a whole, a similarly gloomy picture emerged.
Fewer than a quarter of Scots agree the country feels better today than it was five year ago, while 43% say it isn't, the polling shows. 
And we are only slightly more positive when it comes to how 
Scotland measures up against the rest of the UK: 28% say Scotland is doing better, as against 32% who said it isn't.
Unsurprisingly, pessimism is much higher here among pro-Union voters and supporters of opposition parties than among pro-independence supporters and backers of the SNP.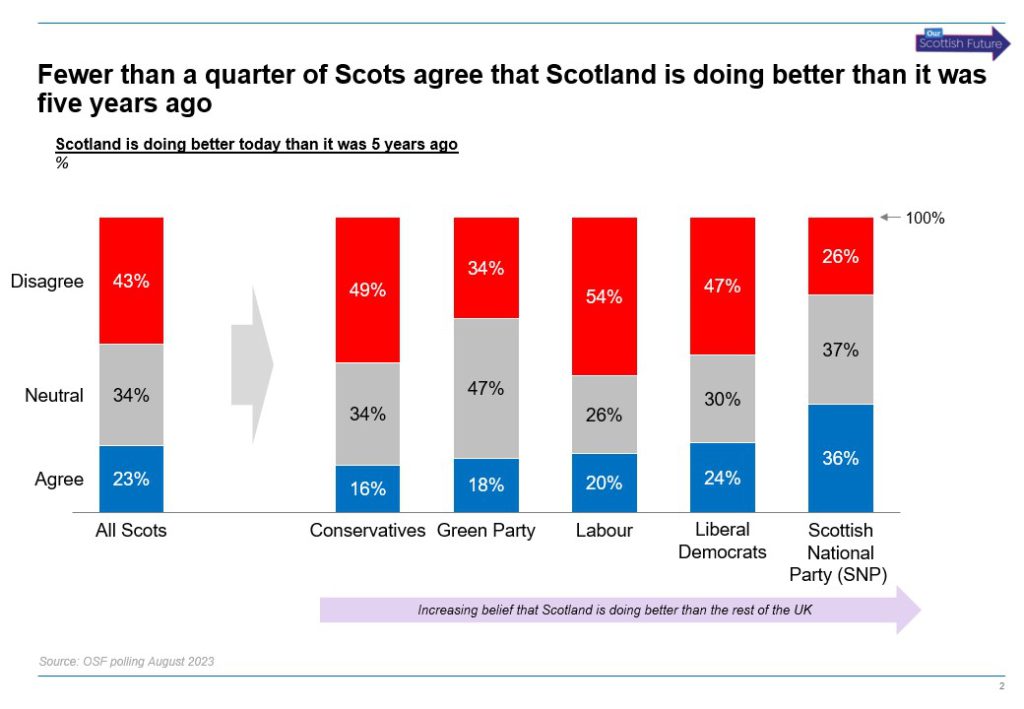 We also asked about specifics – the UK Government under Rishi Sunak, the Scottish Government under Humza Yousaf, or the outcome of the next Westminster election – and here too the mood is similarly sceptical. 
Asked to say how optimistic or pessimistic they felt about each, Scots marked down a mean sore of 3.6, 3.9, and 4.4. – hardly an overwhelming sign of hope.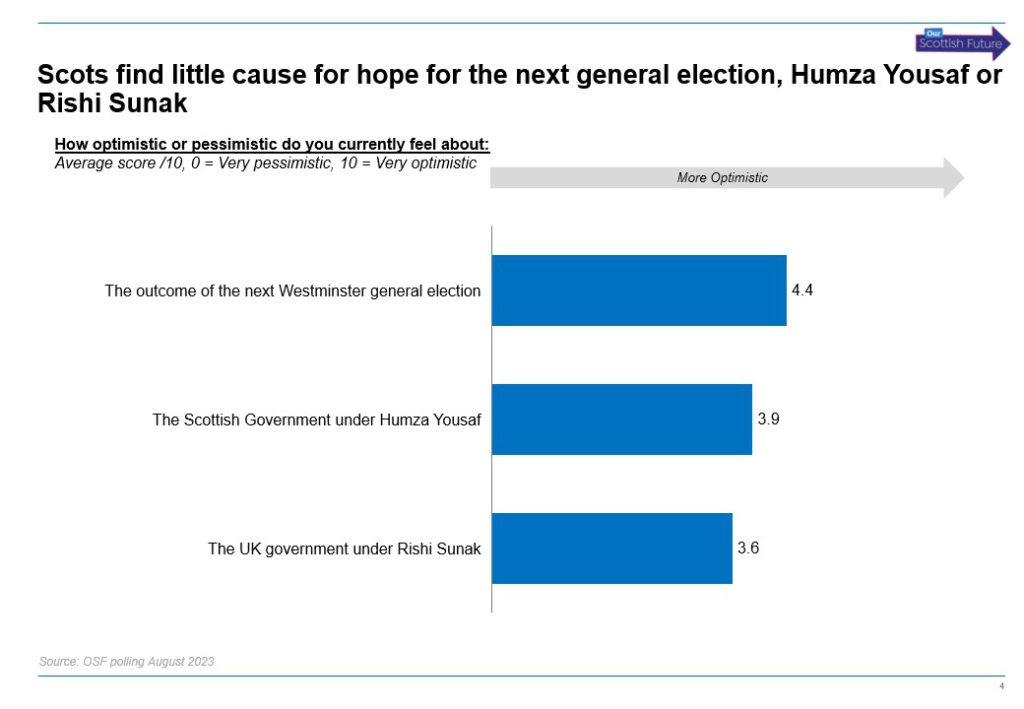 Are we therefore a nation in a total funk? Perhaps not. We also asked people how they felt about their personal future and their own finances. Perhaps surprisingly, people came back to say they felt more optimistic than pessimistic about their future financial security and their own future health and wellbeing – something that holds among both pro union supporters and pro independence backers. 
Only one in ten Scots say they feel deeply pessimistic about their future health and wellbeing. On finances, the deep pessimists are outweighed by the deep optimists 18% to 23%.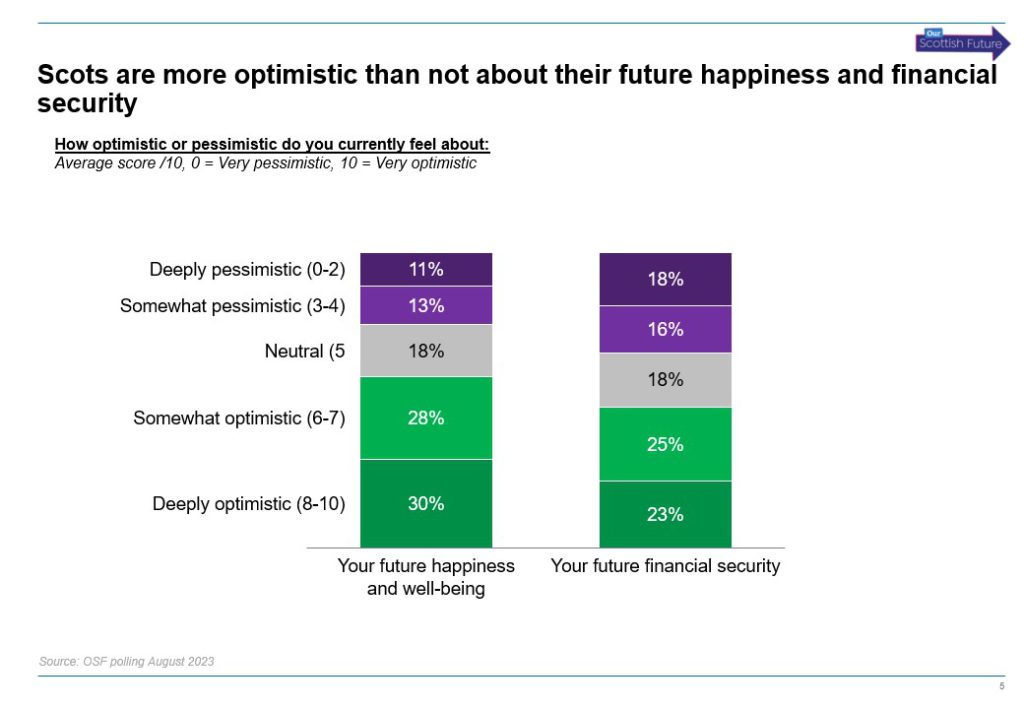 In short, Scots remain cautiously optimistic about their own circumstances. But they don't have a huge amount of faith in our political system's ability to improve it. 
As a general election year begins, there is surely an opportunity for political parties which can convincingly overcome our pessimism to politics, and show there's a way out of the rut we're in.
focaldata tables available to view here
Fieldwork was carried out between the 9th and 14th of August involving 1056 Scots.