*This is the weekly newsletter we send to our list. If you would like to receive our newsletters straight to your inbox please sign up on our website*
The UK public still appears to be behind the idea of "net zero" – where, as a country, we are no longer contributing to the amount of greenhouse gases being emitted into the atmosphere.
The problems begin, however, when it gets specific.
In recent weeks, Scottish Green Minister Patrick Harvie has outlined proposals which could, if followed through, make it harder to sell your home if your gas boiler is still churning away. That has not gone down too well.
This week, a ban on new oil boilers in rural and off-the-grid homes by 2026 has come under the spotlight. Even the Heat Pump Federation – which represents firms installing the supposed replacement systems – thinks that is "unfair and unreasonable".
These flashpoint hint at the coming political battle over green policy.
Up until now, cutting carbon emissions has been relatively easy on the homeowner and the tenant. The graph below shows where those reductions have come from in Scotland: 80% is from energy supply. We've switched off coal and replaced it with wind power. None of this has had impacted on us at home: after all, it's still electricity coming through the wires.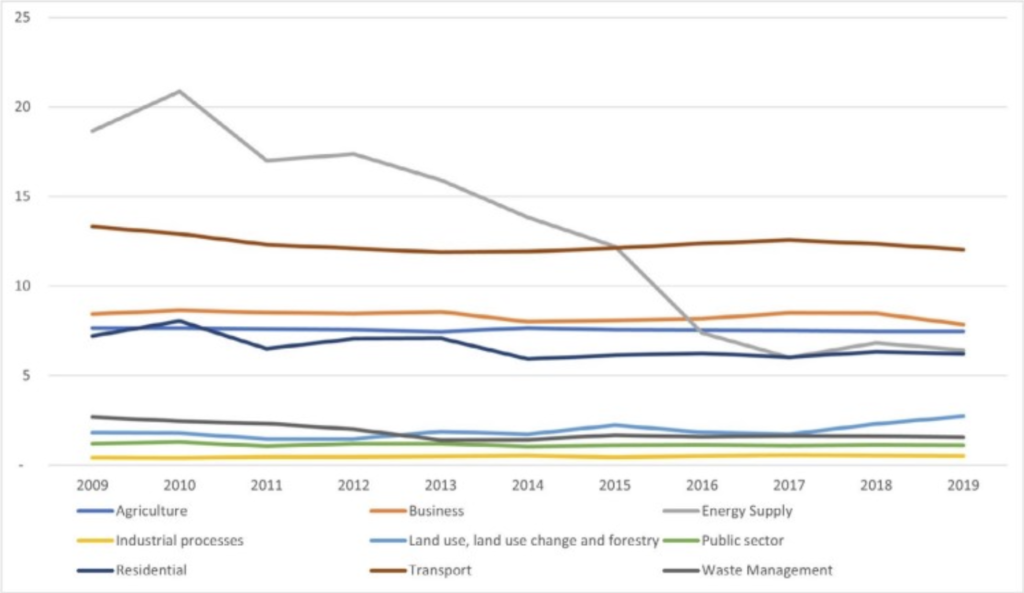 The problem is that if we're to keep up the momentum on carbon reduction (and have a chance of hitting our net zero targets) those other horizontal lines now have to start heading downwards – as you can see the carbon reductions from energy supply have now flat-lined in recent years. As environmental expert Pete Wood wrote in our recent paper on the subject: "The focus needs to move to other areas such as transportation, business, agriculture and home-heating.". Hence the reason why Mr Harvie is now after your gas boiler, and why you have to pay if your car can't go into Glasgow city centre.
We are, in short, going to head into extremely contested political territory on Net Zero. We've done the relatively easy political task which hasn't required much from ourselves; now comes the task of getting people to change their behaviour through a mixture of carrot and stick – such as imminent bans on diesel and petrol, and a crack down on poorly insulated housing.
This tricky task will require politicians who can take people with them. But the omens, in Scotland, are not good. The cause of Net Zero is now headed up by the Scottish Green party. And not only has it created needless political division in the way in which its prosecuted its case, the party's incompetent handling of reforms like the Bottle Deposit Scheme has damaged public trust in change to the extent that a growing number of SNP MSPs no longer want to be in coalition with them.
Robin Harper has now left the Scottish Greens but on this and on many other subjects, the former Scottish Green party leader and OSF board member is still a source of good counsel. In a podcast this week, which comes just after he quit the Greens last week, I asked him what advice he had for green movement as it treads through this tricky territory. "Listen, cooperate, research," he said. "Get your research right, then listen, then cooperate, and then act." Wise words. You can listen to all his thoughts on the future of the UK, the practicality of heat pumps, and the future of the House of Lords here.
How Should Scotland Rejoin The EU?
Meanwhile, for the Europhiles among you, I took part in a webinar organised by the European Movement in Scotland this week alongside former SNP MP Stephen Gethins. We were asked to discuss how Scotland should rejoin the EU – as either an independent nation or as part of the Union. You can watch the full thing here.
As first raised in a EU debate we held last year, my short answer was that, either in the Union or out of it, the road back to Scotland entering the EU is a long one. It simply isn't feasible or realistic right now to even think about rejoining. Our view at OSF is that pro-Europeans in Scotland – and the UK – might be advised to take a leaf out of the SNP's playbook and adopt a gradualist plan. To die in a fundamentalist ditch about rejoining the EU now is pointless. Better to support the incremental and practical steps that strengthen our relationship with the EU, improve our current deal with the EU, and then see where things are in a few years' time.
Strategic patience has not been much of a virtue in the Remain camp over the last seven years but, as Alex Salmond understood when it came to Scottish independence, while such an approach doesn't guarantee success it'll get you a damn sight nearer to your goal than any other option.
The good news is that relations with the EU are already normalising: it now seems nailed on that Prime Minister Rishi Sunak will agree for Britain to re-enter the mammoth Horizon science programme in the coming weeks. This is another reason to have optimism that the Brexit wars are well and truly over.
There will be more to come from us over the coming weeks, including new research on the NHS, on the Scottish public sector, and the thorny question of heat pumps.